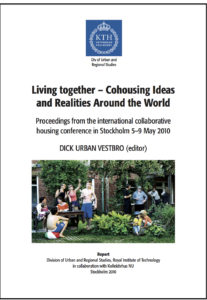 In 2010, Kollektivhus NU hosted the first international conference on cohousing. The Proceedings has since 2010 been available in print. Now, the volume's well over 230 pages is available electronically.
Labelled Living together, the Proceedings contains all the papers presented at the conference, reports from the workshops, and – not least important – a review of concepts and terminology relating to different models of cohousing. With 150 participants from 20 countries, the realities of cohousing were shown to vary a great deal, and so were the terms used to express 'cohousing' in respective country.
Internationally, the demand for access to Proceedings has grown considerably, demonstrating the importance of the conference as a starting point for a growing international movement aiming to make cohousing an alternative in the housing market.